MIDNIGHT
RIDE
An electrifying VR experience
only imagined before now
Midnight Ride™ was a recipient of the 27th annual Thea awards hosted by the Themed Entertainment Association. 
This action packed hyper-reality VR experience set in the world of The Twilight Saga™ is a custom ride system co-developed between Dreamcraft Attractions and CAVU.  Midnight Ride™ takes guests on a VR motorcycle thrill ride with Jacob and the Wolf Pack. Guests each individually control their own real-world motorcycle, that is fully replicated in the VR world, as they jump and chase through a moonlit Pacific Northwest setting. Vampires are on the prowl, and guests need to help draw them out for the Wolf Pack to regain control of the town of Forks.
This revolutionary attraction is a collaboration between CAVU's ride systems engineering talent, DreamCraft Attractions' technical prowess, Framestore's media expertise and Thinkwell Group's creative and production leadership.
Midnight Ride™ combines the latest in VR technology with user controlled motion bases, force feedback actuators, physical engine haptics and wind effects to fully immerse guests into the setting of the Twilight™ franchise. Guests are fully embodied as avatars and placed together in the experience with their friends and family for an unforgettable attraction. Branching paths and choices that will have them returning again and again to "ride with the pack".
PROJECT
Lionsgate Entertainment World
LOCATION
Zhuhai, China
ATTRACTION
"The Twilight Saga: Midnight Ride™"
Hyper-reality VR Experience
OPENING DATE
July 2019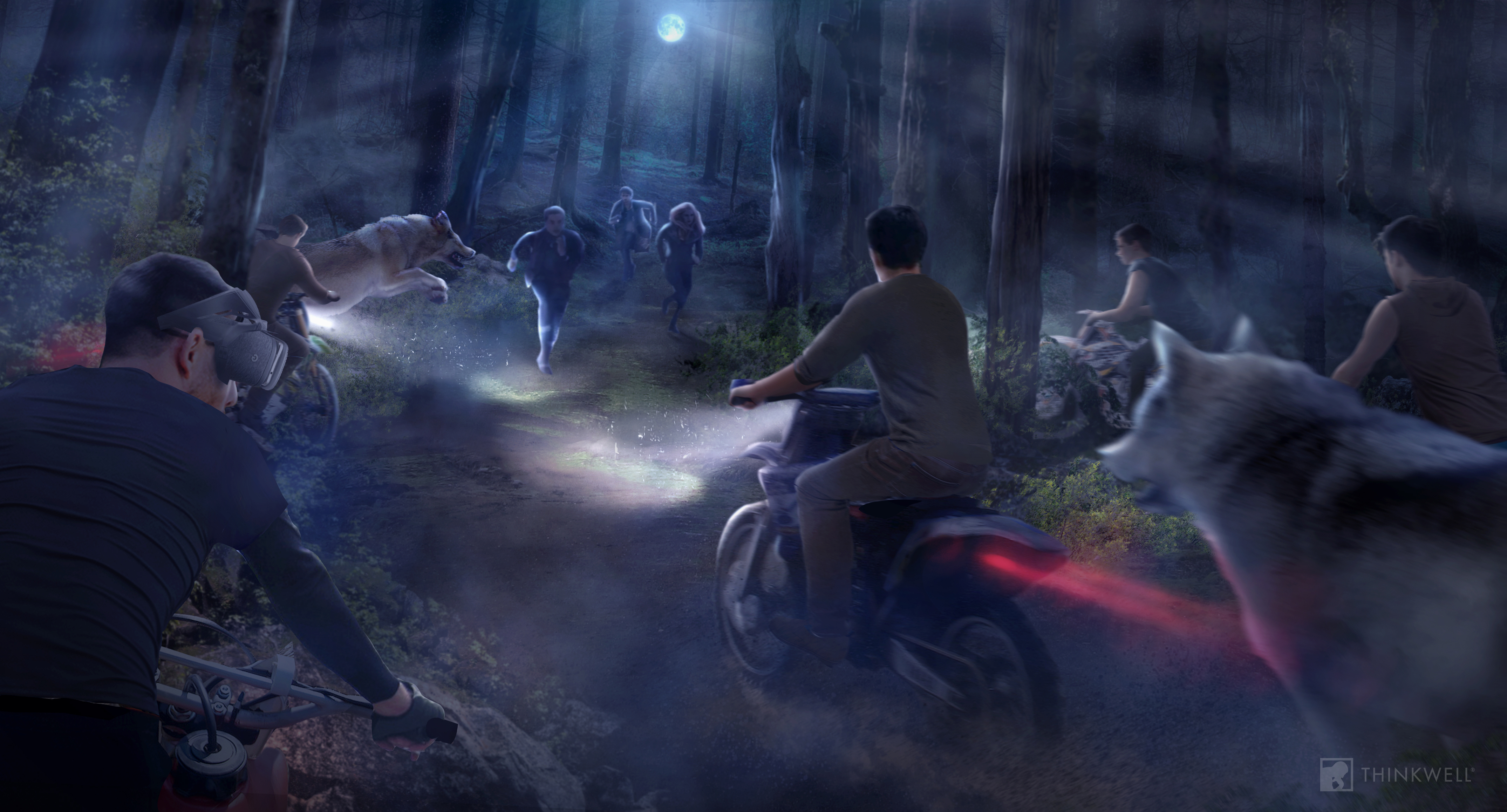 SEE MIDNIGHT RIDE IN THE NEWS BELOW
BLOOLOOP
MIDNIGHT RIDE IS A RECIPIENT OF A THEA AWARD
BLOOLOOP
NEW RIDES FOR LIONSGATE