25th October 2022 –
New dark ride experiences will be made exclusively possible with the concept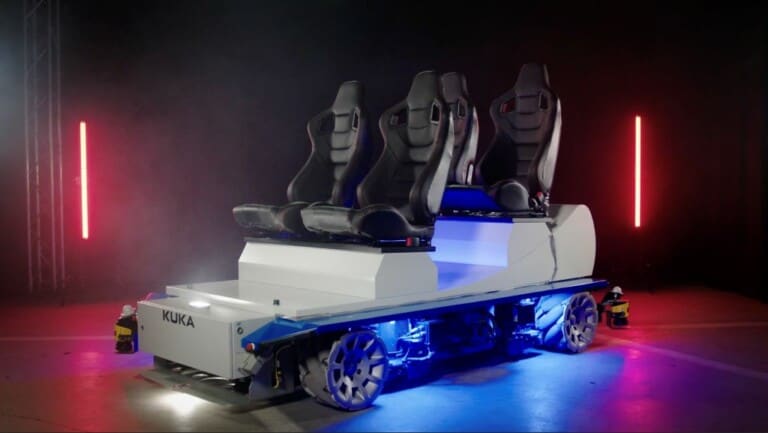 CAVU Designwerks, the media-based attractions specialist, has provided further details of its partnership with partnered with KUKA Robotics to create next-generation ride systems.
The Self Driving Vehicle (SDV) is an entertainment application safe for passenger usage that is built on a dependable industrial platform from KUKA. Other cutting-edge technology, such as artificial intelligence, real-time gaming, and projection mapping, can interact with this vehicle. KUKA and CAVU can market the entertainment application at a fraction of the cost of most existing autonomous vehicles by utilising a vehicle that has proven itself in the industrial sector.
Exciting experience concepts
Owners and operators can design the greatest experience for their target demographic by utilising the dynamic motion profile of the vehicle, which can range from a thrilling, immersive ride to a fun family outing. The SDV is the ideal tool for immersive storytelling since it leverages a proven platform and can adjust in real time to evolving surroundings.
"With this vehicle, we wanted to reimagine what it means to interact with an experience, by allowing guests to actively participate in the story," says CAVU president Mark Stepanian.
"We are known as innovators in the industry, and by combining our talented teams, we can create a better experience for park-goers worldwide. We are utilising KUKA's proven technology and combining it with new and exciting experience concepts."
Orlando demonstrations
The car is the first invention to be displayed as a result of the recently announced partnership between CAVU and KUKA. To develop the next generation of dark ride systems, the two businesses will draw on one another's knowledge and experience.
The SDV will soon be available for demonstrations in Orlando with assistance from BEC's in-depth programming expertise and Firefly Creations' artistic direction. The demo will be providing a range of thrilling sensations, demonstrating the variety of movements and options the SDV offers.
Visitors will be able to see a self-driving car in action and take in the immersive movement produced by these creative teams from 13-17 November at IAAPA Expo in Florida, US.
Meetings and demos can be booked in advance on the CAVU company website or by email.
Last month, CAVU launched its internship programme with its first cohort of young professionals, with further groups set to begin in January and May 2023.
Share This Story, Choose Your Platform!