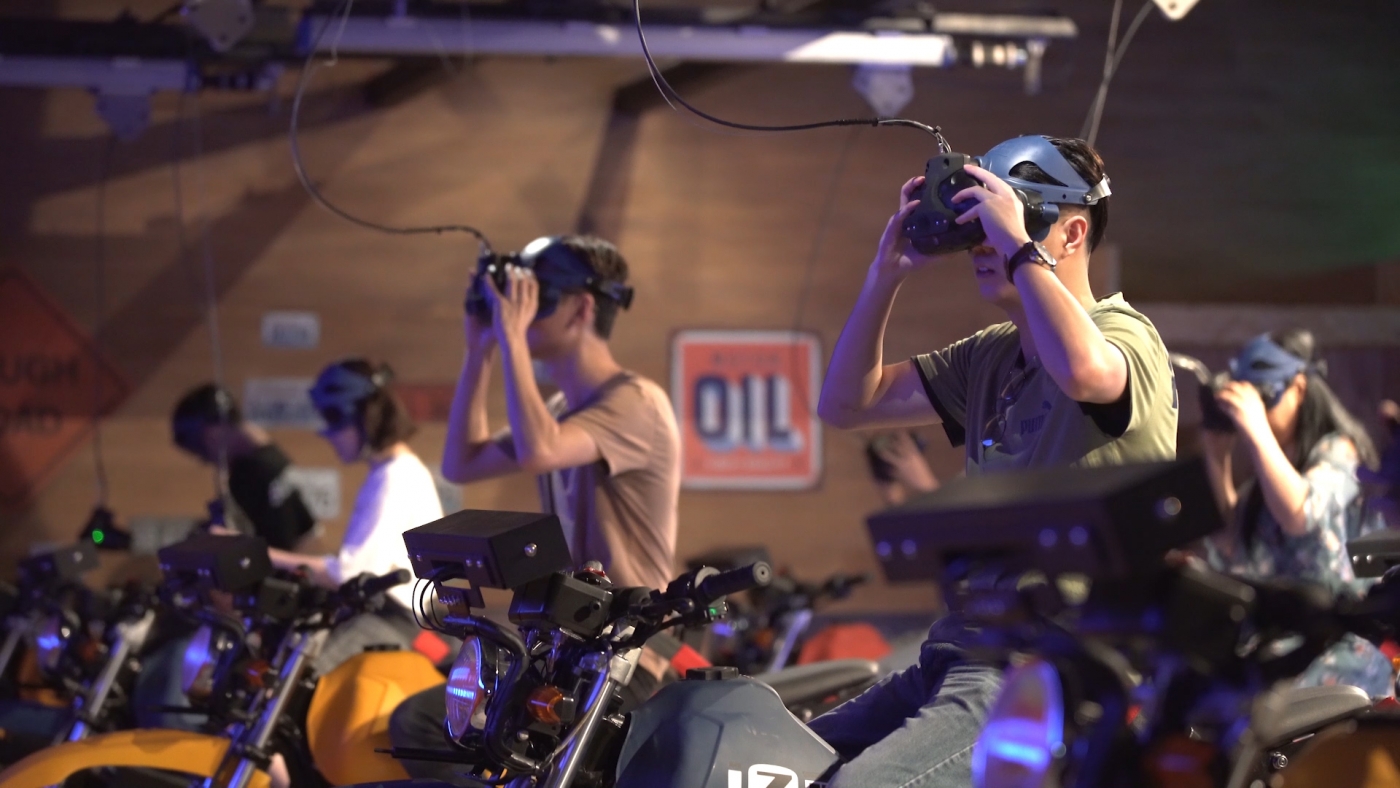 When we think of safety in amusement park attractions, we typically think of roller coasters and intense thrill rides with large restraints and safety features, but rarely do we think about Virtual Reality (VR). As a relatively new technology, VR continues to spread, grow, and evolve throughout the amusement industry. Manufacturers and operators are constantly creating new safety measures to ensure everyone can safely enjoy this new type of experience.  
To explore the safety requirements of this new technology, let's walk through the process of creating a new VR experience together. What safety concerns are there? Where do we start? 
These are a few major considerations when designing a VR attraction:
Nausea/Motion Sickness

 

Slips, Bumps, and Falls

Cable Entanglement 

 
First, we'll address the nausea and motion sickness that can happen from VR attractions. This is arguably the most widespread complaint that exists on VR rides: dizziness! However, many people would be surprised that nausea can be easily mitigated with the proper techniques.  
CAVU's sister company, DreamCraft Attractions, is one of the leading real-time technology companies and CAVU has collaborated with the expert team at DreamCraft to mitigate the risks/considerations for VR attractions. We'll do the same here when designing our attraction. 
Our VR attraction (and all other VR attractions) must be designed in a way that it completely isolates guests from the outside world. If your mind is halfway between the real and virtual world, nausea ensues. Utilizing real-world touch points is key to giving guests a sense of stability.  
"One key element that contributes to motion sickness in VR is the sense that the eyes are just kind of being detached from the body and run around a room or through space with nothing to help ground guests in the experience. In Dreamcraft VR guests are immediately grounded since what you are sitting on and touching as a ride vehicle is a physical object that matches 1-1 with a virtual ride vehicle. Touch is as important a sense as sight when it comes to full immersion in VR, and the physicality of body work, seats and controls that you can both see and feel makes all the difference." Terry Sanderson, Business and Product Development at DreamCraft Attractions.  
For hazard #2, we need to address the fact that our guests can't see anything with their headset on. If guests could see, they would make sure not to get too close to a wall; however, with VR they are unable to determine that for themselves. Minor obstacles like steps can be a serious hazard if you're blinded from VR equipment. A winning strategy that the DreamCraft team frequently uses is to create virtual and real restraints to limit hazards. Creating a wall in the VR world that mimics the real world is an easy way to ensure guests recognize the limits to the experience. 
To be safe, let's add another mitigation strategy for hazards #1 and #2: embodiment. This technique tracks the body movement of the wearer so that their arms, legs, and hands are visible in the VR world. Seems simple, but this additional technology significantly reduces nausea and helps guests navigate the VR world safely by giving a sense of presence within the space. Again, we must make sure our guests are totally immersed in the VR world to make it the safest experience possible.  
 "In addition to the physicality of a real-world ride vehicle, being able to 'see yourself' adds an additional layer of reality back into the VR experience. With virtual embodiment using Dreamcrafts' proprietary guest scaling technology, you can see your hands and fingers interacting with the virtual ride vehicle and 'touching' the surfaces delivers the sensation of a physical object because you are touching a physical object. This additional layer of reality greatly increases guest immersion and comfort in VR environments." Terry Sanderson, DreamCraft Attractions.  
Finally, we need to make sure our guests don't run into cables or get tangled up during their experience. Removing the cables to the HMDs is an easy fix, if possible, but some setups require cabling to deliver low-latency, high-FPS content. CAVU and DreamCraft are among the pioneers in using overhead cabling systems that mitigate entanglement. As a bonus, this system also prolongs the life of the HMDs as it reduces user mishandling.  
Make sense so far? Let's break it down for an example attraction. 
The Twilight Saga: Midnight Ride is a hyper-reality VR attraction at Lionsgate Entertainment World in Zhuhai, China (you can read more about it here). This attraction has some safety features that are less obvious than the restraint system (which it has as well). There are four features that you may not recognize as safety features right away: 
Overhead Retraction System 
While this may seem like a safety system geared towards the safety of the VR HMDs, it also makes the attraction safer for guests. The operation team can ensure that the guests are focused on buckling their seat belt and not putting on the headset. As mentioned above, this also mitigates entanglement with cables during the ride.  
Embodiment 
Other than being a very cool addition to a VR attraction, embodiment allows guests to see their hands and fingers within the attraction, reducing nausea. It further immerses guests into the storyline and when you move in the real-world, you move in the VR world, syncing what you feel to what you see.  
Haptic Feedback 
Providing multiple touchpoints for the guest (footrests, seat bottom, handles, seatback, seatbelt) maximizes the secure feeling. Guests are riding on a real-world motorcycle and have all of the touchpoints to ground themselves as if they are. This is key to minimizing nausea and making guests feel safe. 
Additionally, custom force-feedback actuators reduce nausea by providing "road feel" in the handlebars of the bikes. This system inputs real-time sensations into the riders' hands to match the content of the VR world, further immersing the guests into the experience.  
2-Piece Headset 
As mentioned above, our sister company DreamCraft Attractions are leading the industry in VR beginning with their patented headset the DreamSetTM. We will discuss this in more detail below.  
VR After COVID-19
VR can still exist in a post-COVID world, but there are some areas that need to be focused on. Sanitization of headsets has always been important, but constant sanitization reduces throughput and can increase wear on expensive equipment. Enter the DreamSetTM Two-piece Hygienic Solution, created by DreamCraft Attractions. All the guest interface happens with machine-washable plastic masks. Little to no contact is made with the expensive headset, which reduces sanitization needs and increases the lifespan of the HMD. After each use, masks are cleaned in a high-temperature washing machine before they are used again. 
We looked to Terry to discuss the DreamsetTM in a post COVID world. "The DreamsetTM wasn't designed specifically for managing the aftermath of Covid-19, however, it's two core problem-solving features of increasing VR hygiene and increasing VR throughput are well suited for helping operators manage equipment cleanliness while also maintaining the normal number of guests that can cycle through a VR attraction during periods where an increased focus on social distancing and hyper-cleanliness are the new requirements." Terry continued.  
COVID-19 has certainly increased the guests focus on sanitization, but it does not need to change the attraction.  
These are just a few of the ways that VR is focused on safety and guest comfort. As technology progresses, so does the need for increased safety measures.  
As always, if there is a topic you would like us to cover in Safety First, let us know! Email: info@cavudw.com with your suggestions.