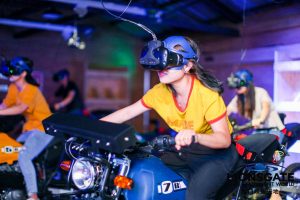 Entering the world of The Twilight Saga, Midnight Ride is a VR experience taking guests on a motorcycle thrill ride with Jacob and his Wolf Pack. Using a real-world motorcycle on a user controlled motion base, guests wearing headsets ride through a moonlit setting. On the ride, vampires are on the prowl, with riders helping to draw them out so the Wolf Pack can regain control of the town of Forks. Playing as avatars, 24 guests can enjoy the experience in VR at once. Branching paths and choices offer alternate experiences, increasing replayability.
The experience is a combination of CAVU's ride systems and VR specialist DreamCraft's technology, while Thinkwell led the production and creative process, and Framestore created the media. To create the immersive experience, several special effects are used, including haptics and offboard and onboard audio. "Guests can move through the Twilight world and interact with friends, family and familiar characters using our highly responsive motion base," said Mark Stepanian, VP of Innovation and Engineering at CAVU. "Coupled with force feedback haptics, wind and scent, the ride is designed to fully engage all the senses and makes for a ground-breaking experience."
Share This Story, Choose Your Platform!