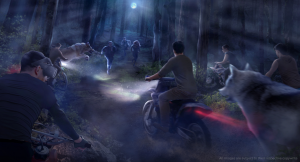 CAVU Designwerks has partnered with DreamCraft Attractions, The Thinkwell Group and Framestore to develop an unprecedented attraction, The Twilight Saga: Midnight Ride. Launched this year at Lionsgate Entertainment World in China, it is one of the most technically impressive-attractions in the park.
Based on The Twilight Saga characters and settings, the Twilight Saga: Midnight Ride experience takes guests on a VR motorcycle  thrill ride with Jacob and the Wolf Pack, giving each guest control over their own real-world motorcycle ride vehicle and motion base. While virtually jumping and chasing through the moonlit Pacific Northwest forest setting, together they will help the Wolf Pack draw out the vampire threat, defeat them in battle, and regain control of the town of Forks.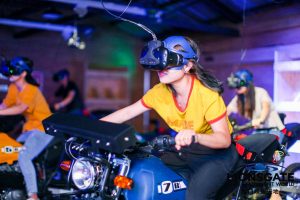 This attraction was co-developed by CAVU Designwerks and DreamCraft Attractions. Midnight Ride Combines the latest in VR technology with individual user controlled motion bases, force feedback actuators, physical haptics, scent technology, and wind effects to deeply immerse guests into the world of the Twilight franchise.
Each guest is embodied as an avatar and digitally brought together into the same virtual experience with friends and family for an unforgettable adventure that features vehicle autonomy and branching path choices to 'create your own adventure' that will have guests returning again and again to ride with The Pack.
Mark Stepanian, Vice President, Innovation and Engineering at CAVU, describes Midnight Ride as a "first-of-its kind" attraction. "Guests can move throughout the Twilight world and interact with friends, family and familiar characters from a highly responsive motion base. Coupled with force feedback haptics, wind and scent, it is designed to fully engage all the senses. This ride makes for a truly ground-breaking experience."
The Twilight Saga: Midnight Ride uses the award-winning modular HMD: DreamSet, DreamCraft's patented durable and washable VR HMD solution that quickly and easily connects magnetically to VR display hardware. Headsets are sanitized after each use and require minimal operator input, making it the premier choice for guest comfort and the high throughput requirements of the attractions industry.
CAVU's ride systems engineering talent combined with DreamCraft's technical prowess, Framestore's media expertise and Thinkwell's creative and production leadership made The Twilight Saga: Midnight Ride possible.
Share This Story, Choose Your Platform!