13th August 2020 –

Two of the most popular rides at Lionsgate Entertainment World are Midnight Ride and The Hunger Games: Mockingjay Flight Rebel Escape. Both provide an opportunity to escape from the real world and its challenges and a journey into the world of the production company's films.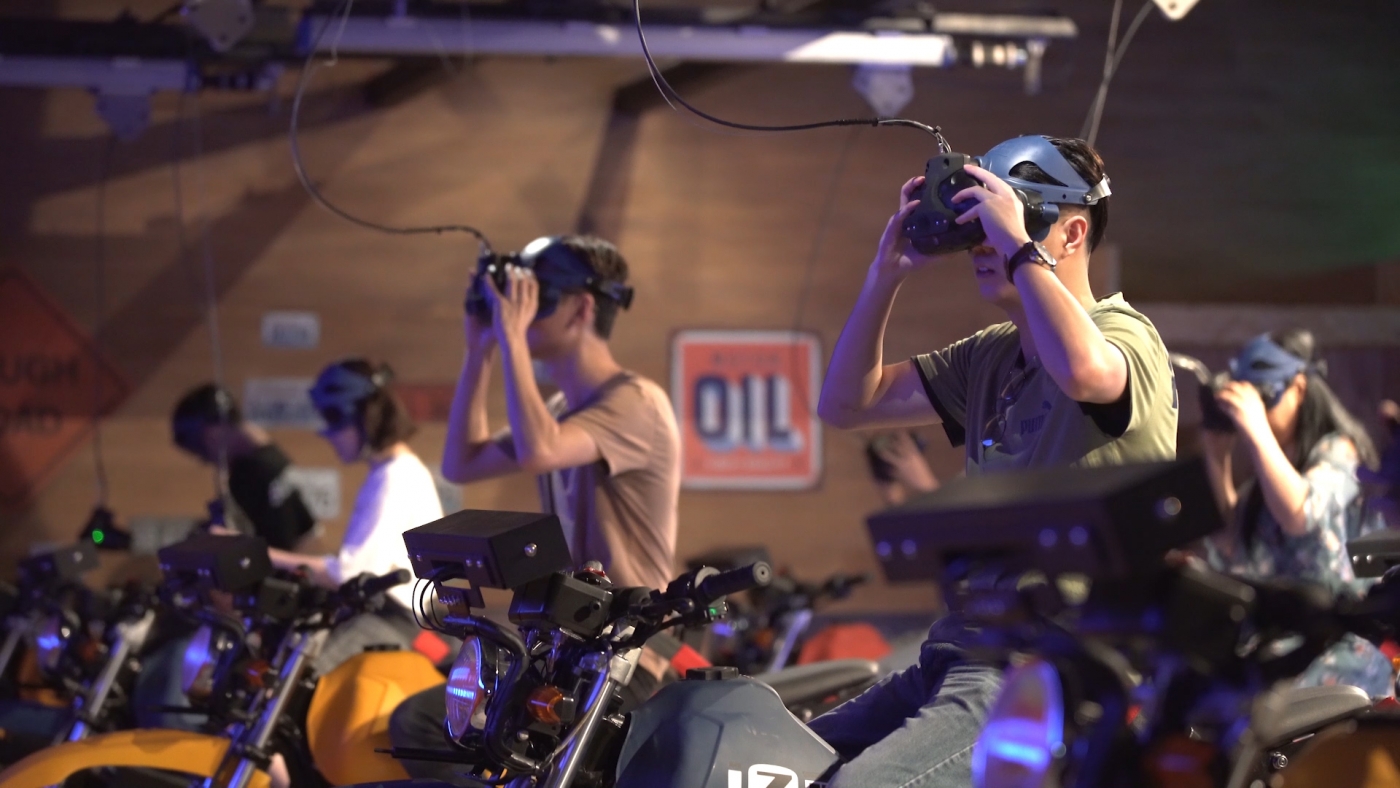 Entering the world of The Twilight Saga, Midnight Ride is a VR experience taking guests on a motorcycle thrill ride with Jacob
and his Wolf Pack. Using a real-world motorcycle on a user-controlled motion base, guests wearing headsets ride through a moonlit setting. On the ride, vampires are on the prowl, with riders helping to draw them out so the Wolf Pack can regain control of the town of Forks. Playing as avatars, 24 guests can enjoy the experience in VR at once. Branching paths and choices offer alternate experiences, increasing replayability.
The experience is a combination of CAVU's ride systems and VR specialist DreamCraft's technology, while Thinkwell led the production and creative process, and Framestore created the media. To create the immersive experience, several special effects are used, including haptics and off  board and onboard audio. "Guests can move through the Twilight world and interact with friends, family and familiar characters using our highly responsive motion base," said Mark Stepanian, VP of Innovation and Engineering at CAVU. "Coupled with force feedback haptics, wind and scent, the ride is designed to fully engage all the senses and makes for a groundbreaking experience."
This attraction was co-developed by CAVU Designwerks and DreamCraft Attractions. Midnight Ride Combines the latest in VR technology with individual user-controlled motion bases, force feedback actuators, physical haptics, scent technology, and wind effects to deeply immerse guests into the world of the Twilight franchise.
Each guest is embodied as an avatar and digitally brought together into the same virtual experience with friends and family for an unforgettable adventure that features vehicle autonomy and branching path choices to 'create your own adventure' that will have guests returning again and again to ride with The Pack.
Mark Stepanian, Vice President, Innovation and Engineering at CAVU, describes Midnight Ride as a "first-of-its kind" attraction. "Guests can move throughout the Twilight world and interact with friends, family and familiar characters from a highly responsive motion base. Coupled with force feedback haptics, wind and scent, it is designed to fully engage all the senses. This ride makes for a truly ground-breaking experience."
The Twilight Saga: Midnight Ride uses the award-winning modular HMD: DreamSet, DreamCraft's patented durable and washable VR HMD solution that quickly and easily connects magnetically to VR display hardware. Headsets are sanitized after each use and require minimal operator input, making it the premier choice for guest comfort and the high throughput requirements of the attractions industry.
CAVU's ride systems engineering talent combined with DreamCraft's technical prowess, Framestore's media expertise and Thinkwell's creative and production leadership made The Twilight Saga: Midnight Ride possible. Attractions designer CAVU Designwerks also collaborated with Lionsgate, Thinkwell and Framestore to create Hunger Games – Mockingjay Flight Rebel Escape, a multiple motion-based cabin 3D simulator, which takes guests on an action-packed adventure through the nation of Panem during the rebellion.
The signature ride loads 30 guests in a themed vehicle and uses 3D projections to let them flee the capitol in a thrilling chase. The attraction is understood to be the first enclosed motion simulator in mainland China and is entirely electric. With 6DOF (degrees of freedom), the motion base supports the vivid story to create a unique and cutting-edge experience.
For the integration, CAVU started with a stateof- the-art, 6 Degree of Freedom motion base that serves as the base of the attraction. It's quiet, fast, and very smooth. From there, a heavily themed cabin with real-to-life details, integrated show lighting and a 20+ speaker surround sound system set the stage for the daring escape. Using a dual, ultra-high definition 3D projection system, the story comes to life around guests. For even more immersion, integrated wind and other special effects are all perfectly synchronized with the motion and media content.
Mockingjay Flight is located on the second floor of a large building. Beneath the motion base, a custom designed frame avoids transferring vibration to the surrounding shops and attractions. This is a great idea for a client with a small space or within a shopping mall environment. CAVU built bridges that raise and lower to allow guests to board the attraction. ■
Article first appeared in Parkworld.