24th June 2021 –
CAVU Designwerks, the media-based attractions specialist, took part in this year's Cornell Theme Park Design Competition as both a sponsor and part of the judging panel. The annual competition brings together upcoming young talent in the attractions industry.
"This year's Cornell Theme Park competition was again, incredible," says Mark Stepanian, President and Chief Experience Officer at CAVU. "Having judged the competition now for two years, it was exciting to see the difference just a year makes in terms of the depth, quality, and overall ideation of themed entertainment concepts.
"With another year of record submissions and an increasingly global representation, the competition was steep, qualified, and representative of the young blood our industry has to look forward to in the years to come."
Creative talent on show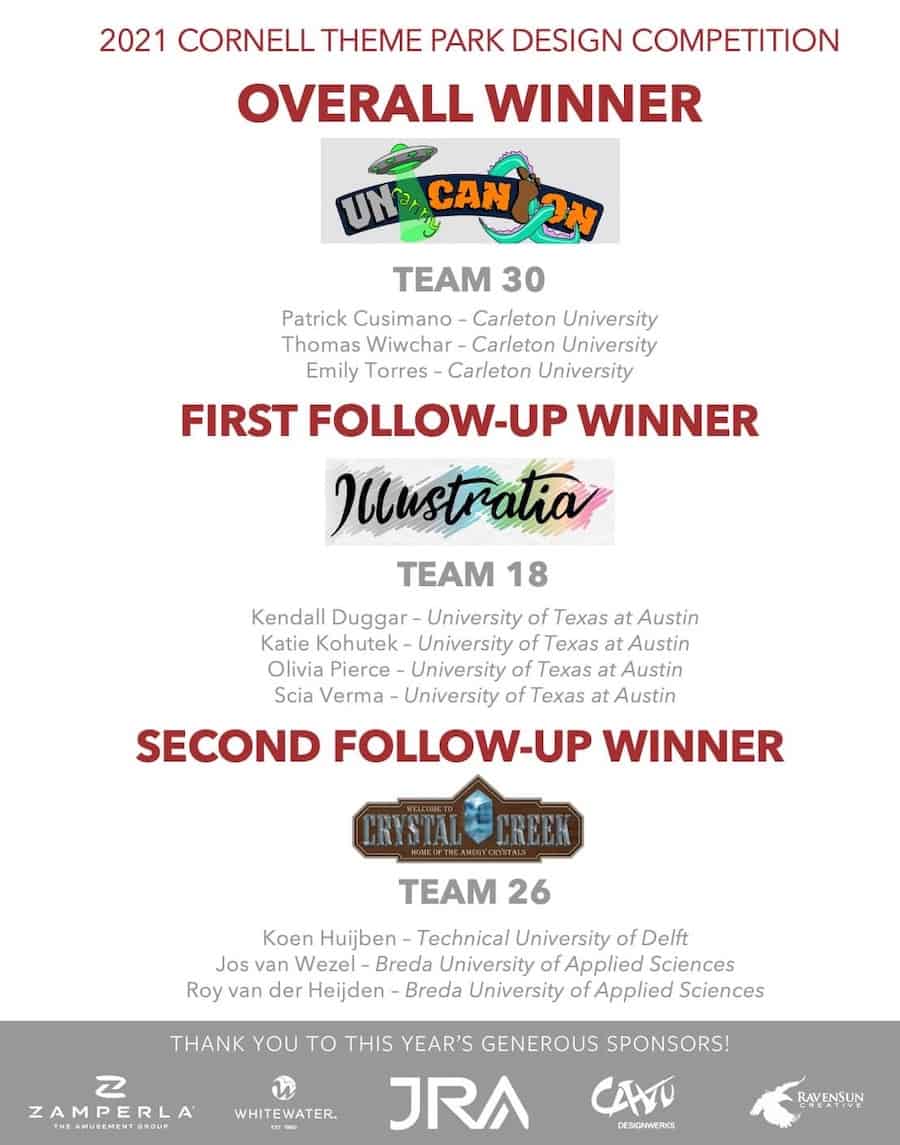 Stepanian is himself a Cornell alumnus and, in his role as one of the judges, was able to see the high level of creativity and talent firsthand.
This year's winners were Team 30: Patrick Cusimano, Thomas Wiwchar and Emily Torres from Carleton University in Ottowa, Ontario. They describe their concept, the Uncanyon, as a mysterious hidden land where "urban legends like Bigfoot, Nessie, the Jackalope and aliens" have come to seek cheaper tuition. The design is built around guest curiosity and allows visitors to roam freely without the need for queues.
CAVU sponsored the Innovation Challenge, which involved using new interactive technology to enhance the experience and making sure that this was integrated seamlessly into the concept, theme and narrative. The winners of the Innovation Challenge were Team 18: Kendall Duggar, Katie Kohutek, Olivia Pierce and Scia Verma from the University of Texas at Austin. They were also the first follow up winner overall.
Team 18's entry, Illustratia, impressed in the Innovation Challenge as it integrated queuing, ADA accessibility, and immersive elements within the concept, which sees guests journeying into the pages of a sketchbook as the art comes to life, and taking their part in a longstanding feud.
"While several groups succeeded in meeting this innovation goal, it was thrilling to see such deep understanding of these advanced technologies with Team 18," says Stepanian. "The incorporation of RFID bands to assist operators with guest flow while simultaneously pushing guests deeper into the story through personalized interactivity is what set Team 18 apart."
The event was also sponsored by JRA, Whitewater, Zamperla, and Raven Sun Creative.
CAVU Designwerks also recently announced Quest, the themed entertainment industry's first walkthrough ride.
Top: images from Team 18's entry